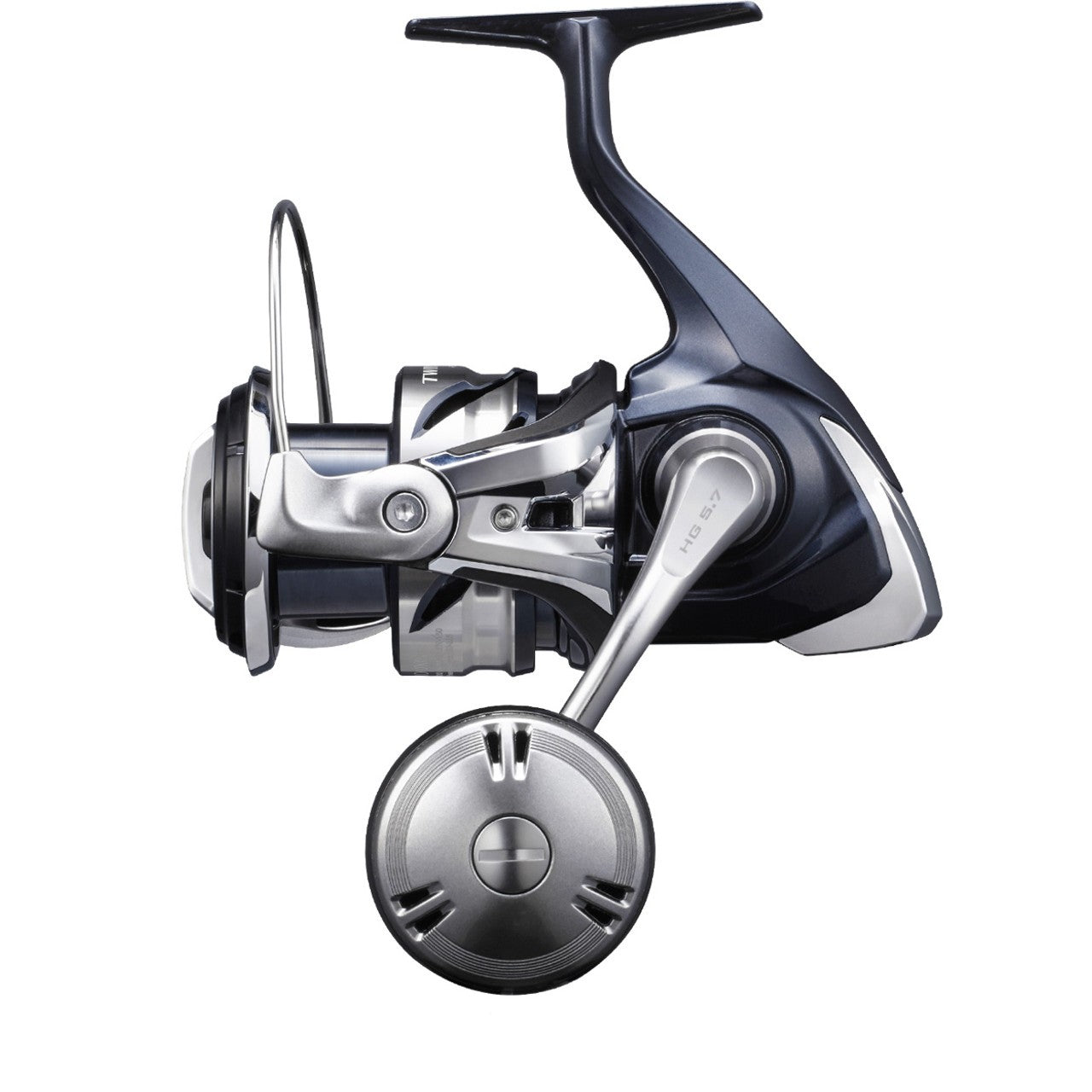 Shimano Twin Power SW - 4000XG
Regular price
Dhs. 1,899.00
Sale price
Dhs. 1,899.00
Regular price
Including VAT
or Split it into 3 payments
interest-free
Estimated Delivery:1 - 3 days
Product Details
Product Chart
Shipping & Return
Designed to challenge the impossible, the new TwinPower SW is stronger and more durable than ever. The inclusion of Infinity Drive reduces handle rotation torque by a maximum of 30% when compared to the previous series. 
Heat Sink Drag features in the 10000 and 14000 sizes to reduce the amount of heat transferred to the drag washers and line during the fight. The X-Protect seal and labyrinth structure repels water intrusion, with the line roller and clutch assembly, the mechanism is ten times more durable according to internal Shimano testing. 
The new striking silver and blue cosmetics have been paired up with a polished metal handle and power knob to finish the reel off superbly. Engineered and made in Japan to the highest standard for the world's hardest fighting saltwater species.
Key Features
HAGANE GEAR - The HAGANE Drive Gear is produced by Shimano's coldforging technology, without the need for additional machining. This delivers a longlasting smoothness, strength, lightness and power at the very heart of the reel. Traditional diecast, machined gears are less durable under heavy loads.

HAGANE BODY - The HAGANE Body is produced from highrigidity aluminium or magnesium. This creates stiffness and impact resistance, while at the same time eliminating flexing of the body. The result is a rocksolid housing and support for the moving internal gearing and greater efficiency throughout the reel.

INFINITY DRIVE - Developed to provide more powerful and light winding through bearings supporting the pinion gear. By doing so the rotational resistance of the reel has been decreased up to 60%.

SILENT DRIVE - Removed 'clicking' sound and 'handle play' and overall improved smooth reeling.

HEATSINK DRAG - Upgraded drag with superior heat resistance through a Heat Sink Panel and Insulation Sheet which blocks heat transfer to the spool and ensures drag performance.

ARC SPOOL - Shimano ARC Spool is a patented spool design with an angled spool lip. This design enables the line to leave the spool with less friction and in smaller coils resulting in longer more accurate casts. ARC spools are proven to reduce backlash and wind knots when using braid.

E.I. SURFACE TREATMENT - E.I Surface treatment doubles the durability of the spool surface and gives less wear out by eliminating oxidation.

ONE PIECE BAIL - The onepiece bail wire has no gap for line to snag on during normal operation. Made of Stainless Steel, it reduces friction and allows the line to get onto the line roller quicker.

S ARB - Shimano S ARB bearings are high corrosion resistant ARB ball bearings with an extra shield for improved protection against sand, salt or dust.

XPROTECT - The contact type triplelip structure is introduced to the roller clutch, the pivotal point concerning water resistance. In this structure, the first lip prevents water from entering through the space between the rotor and the body. In addition, the special grease between the second and third lip where it makes contact with the rotor collar located at the upper part of the roller clutch not only resists water from entering but also minimizes friction resistance. Without jeopardizing the 'silky smooth rotation capacity', the vital feature of STELLA SW, exceptional water resistance, has been achieved to withstand the crashing and splashing of waves and spray.

XSHIELD - By providing dependable sealing structures and gaskets at necessary points, including the reel body and lid joint and the contact point of the spool and drag knob, possible water ingress is blocked. This double protection provides high reliability and durability to the STELLA SW when used in extreme saltwater conditions.

XSHIP - XShip is a combination of features that work together to create much greater efficiency. By positioning the pinion gear close to the centre line of the large diameter drive gear, more power is transferred from the handle to the rotor. The pinion gear is also supported by two Shimano ARB roller bearings. This creates more stability.

XTOUGH DRAG - The drag system of the new STELLA SW has advanced enormously in terms of toughness, smoothness and performance. The basic drag performance has been extensively reviewed and each of the metal and carbon drag washers show excellent heat resistance and durability. Through an indepth study of the thickness and frictional force of each component within the drag system, the best combinations for optimum performance parameters have been found for each model and size. Further, the structure supporting the middle surface of the spool, from both the top and bottom, efficiently disperses the load, securing a smooth and stable drag force. Inside the drag knob, a coiled wave spring is mounted to allow anglers to make fine adjustment, even when under a heavy load.

CROSS CARBON DRAG - This carbon drag material provides a wider range of drag settings, along with the smoothest Shimano drag performance ever.
Specifications
| | | | | | | |
| --- | --- | --- | --- | --- | --- | --- |
| Model | Gear Ratio | Weight | Line Retrieval | Monoline capacity | Max Drag Force | Bearings |
| 4000XGC | 6.2:1 | 350g | 101cm | 1-490,1.5-320,2-240 (PE-m) | 11kg | 9+1 |
| 5000HGC | 5.7:1 | 415g | 97cm | 2-350,3-240,4-170 (PE-m) | 13kg | 10+1 |
| 5000XGC | 6.2:1 | 415g | 105cm | 2-350,3-240,4-170 (PE-m) | 13kg | 10+1 |
| 6000XGC | 6.2:1 | 420g | 112cm | 2-440,3-300,4-210 (PE-m) | 13kg | 10+1 |
| 6000PGC | 4.6:1 | 420g | 83cm | 2-440,3-300,4-210 (PE-m) | 13kg | 10+1 |
| 8000HGC | 5.6:1 | 615g | 107cm | 3-410,4-300,5-250 (PE-m) | 25kg | 10+1 |
| 8000PGC | 4.9:1 | 615g | 94cm | 3-410,4-300,5-250 (PE-m) | 25kg | 10+1 |
| 10000HGC | 5.6:1 | 655g | 116cm | 4-400,5-300,6-250 (PE-m) | 25kg | 10+1 |
| 10000PGC | 4.9:1 | 655g | 102cm | 4-400,5-300,6-250 (PE-m) | 25kg | 10+1 |
| 14000XGC | 6.2:1 | 660g | 134cm | 6-300,8-200,10-165 (PE-m) | 25kg | 10+1 |
Size
Price & Quantity
0
0
6
2-350, 3-240, 4-170
245g
105cm
10+1
13kg
6:2:1
0
0
0
0
0
Shipping cost is based on weight. Just add products to your cart and use the Shipping Calculator to see the shipping price.
We want you to be 100% satisfied with your purchase. Items can be returned or exchanged within 30 days of delivery.